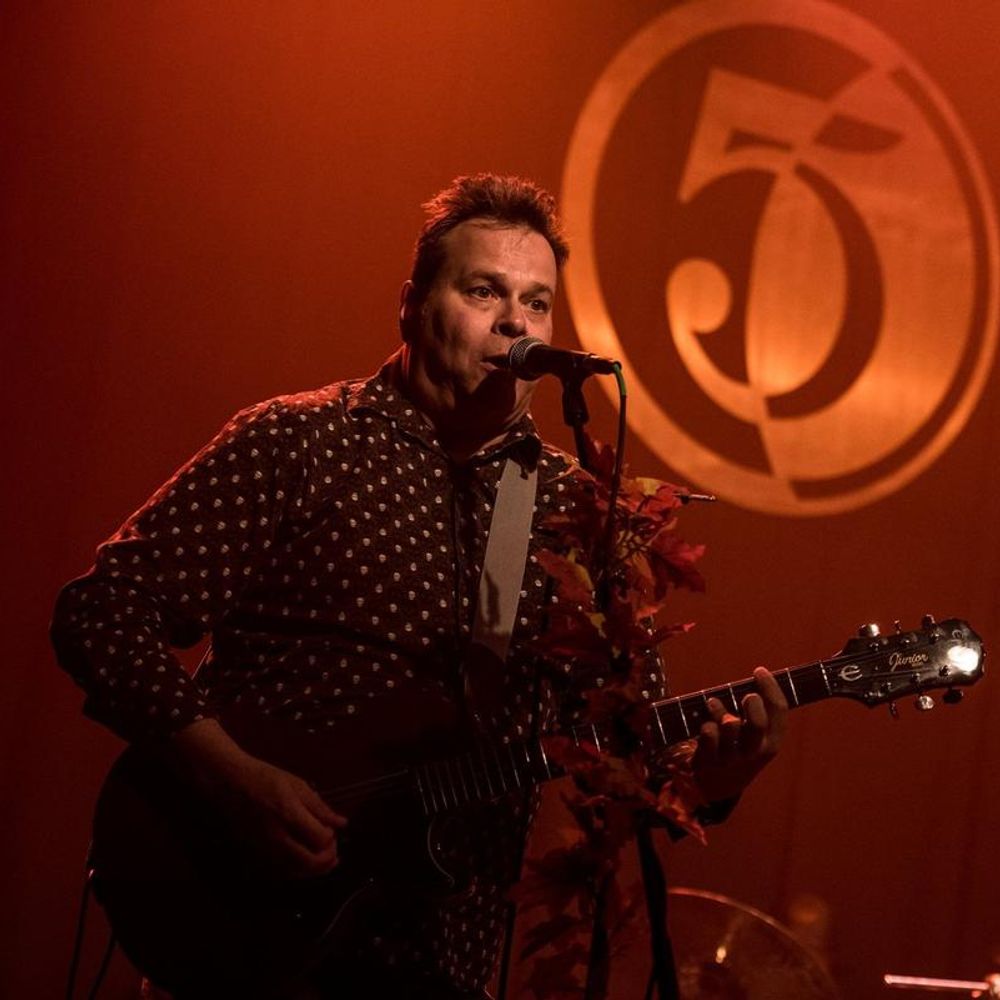 WCBE-FM Musical Journeys
by Mike Foley
Columbus-based band The Molars host a record release show Saturday January 4 in Clintonville.
Led by veteran musician Jimmy Razor, the band formed a few years ago out of a love of "Greasy Rock & Roll." In this edition of Music Journeys, Razor talks about the inspiration for the band's sound and its new Cavity Search release. 
Hey, Hey, Everybody plays...
Hey, Hey, Everybody opens the five-song Cavity Search release by The Molars, a band led by Jimmy Razor also known as Jim Hutter. After several years in various bands, the 55-year-old felt ready to take control and form his own. 
"I spent about 20 years just playing bass in bands," Razor said. "It may have been born out of some kind of desperation. My wife and I adopted a son in 2010. From what we found out, his foster mom picked us as a couple because my wife is a social worker who works with disabled youth and I'm a part time musician. I found that getting an acoustic guitar and doing simple Rock & Roll songs for him when he was six years old, he just loved it. When my old band the Moops was breaking up, I kind of backed into doing an acoustic gig. Jeff Eaton invited me to be part of his Elvis Presley birthday shows January 2012. I decided to get a rhythm section, and then I put ads out for a bassist. That's when John Colarossi came into my life." 
Jimmy Razor and the Exceptions from a live gig...
"That came to an end in the summer of 2016, but John and I were sticking together," Razor reflected. "Then an idea hit him, and this is why I cannot underestimate John's creativity and contribution to the Molars. He says, I know we love Rockabilly, but we always talk about how much we love the old school Punk. Why don't we do something that's kind of a mix of the two - Punkabilly, and he played me examples including the Dutch band Bat Mobile's cover of Burning Love, the old Elvis tune."  
Burning Love by Bat Mobile plays...
"That's the course we followed," Razor continued. "We recruited Mike Folker on lead guitar. We went through several drummers, and right now we have Shane Olson. We like him. We've been playing around Columbus since 2016, just mixing up the Punk and Rockabilly. John likes to call it Greasy Rock & Roll, and he is so spot on. I love it."
Rabble Rouser plays...
"Observations of the world," Razor said about the new release Cavity Search. "I was working at a place that had all these movie gossip magazines around. I would leaf through and see these beautiful actresses, but something was bothering me. I noticed in almost all these photos, they had these very forced, insecure smiles. That's what inspired Love Me, I'm Popular. It's this insecurity that the masses have to love me, why don't you love me."
Love Me, I'm Popular plays...
"The fact that I went from being the silent bass player at the back of the stage to a vocalist/guitarist at the center of the stage, I have more control of the band," Razor reflected. "The will was there, but I just didn't have the vocal ability. It took several years of practicing at home with an acoustic guitar, making recordings, and playing it back. I went for a few professional lessons to understand what I needed to do physically to make musical sounds with my own voice. If you're playing a guitar, you have to learn to hold down the strings a certain way or you're not going to get a sound. If you're playing a clarinet or saxophone, if you don't know blow the right way, you're going to make shrill, dissonant noise. It's the same with your voice. If you don't know what you're doing with your muscles and your breath, you're going to sound like Alfalfa. I wouldn't say that I'm a spectacular vocalist, but I feel like I am somebody who can get out there and sound like I really mean it." 
Stockholm Surfer plays...
"I've always loved the old school surf music," Razor said. "I actually wrote Stockholm Surfer in the late 90's when there was kind of a revival of a lot of that. I'd turn on the TV and love watching ads because so many of them had this surf music in them. I always loved playing in that style. I was just fiddling around with an old electric 12 string and came up with it. Stockholm Surfer seemed to get the some of the best responses when we played it." 
"It's been a great social currency for bonding with people," Razor said of music. "Even if your tastes aren't the same, there's at least a certain overlap knowing that you appreciate and value much the same things in the world. It's a great bonding tool. I find often times that I can reach across political and religious lines because we dig the same music."
A reminder that The Molars will host a record release show tomorrow night at India-Oak Grill in Clintonville. It's free admission, and the show starts at 8. You can find more about the band online at themolars.net.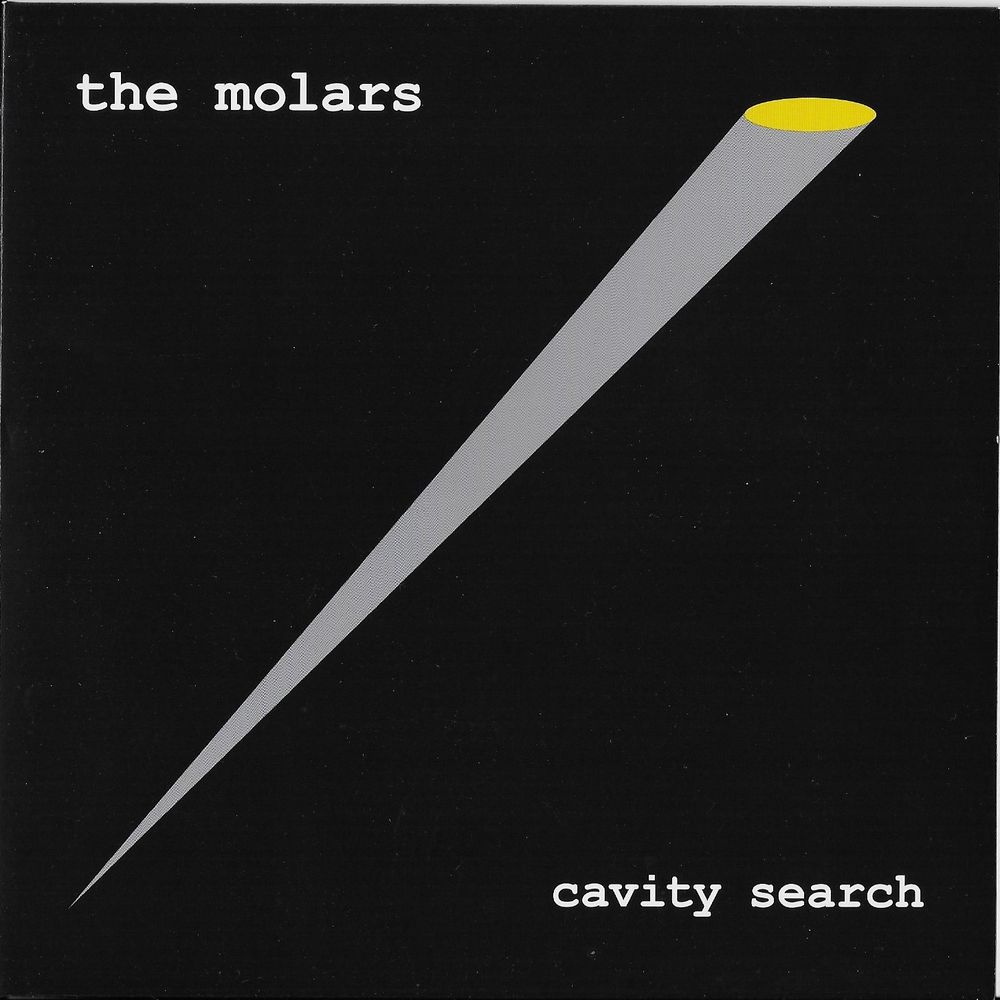 Music In Motion Columbus
by Rick Gethin
Rick Gethin of "Music in Motion Columbus" and the "Cat Club Podcast" gave The Molars' debut EP, "Cavity Search," a listen and jotted down his first impressions.
 "Hey, Hey, Everybody"
Whether kicking off an album or getting the party started for a live show, this song sets the tone.  Strap in and hold on tight…
"Stockholm Surfer"
This is pure and simple what a classic surf guitar is supposed to sound like. It evokes the total immersive feel of being on a beach in SoCal in the early 1960's.  
"Rabble Rouser"
If Jan & Dean and Ramones had a love child, this upbeat surf punk groove would surely be the result. The band melds 1960's surf with 1970's punk seamlessly.
"B.R.C.M."
While staying true to the traditional version of this gem, The Molars manage to give it an updated, rockabilly groove that just works well.
"Love Me, I'm Popular"
The chugging shuffle of this slow burner incorporates a western (country) feel, while the vocals have a slightly sinister edge to them that increases the tension within the song in an eerily wonderful way."
"

If you were one of the 30-40 chosen few tonight, you would have experienced one of the most entertaining shows of the year at Bossy Grrl's Pin Up. The Molars capped off a celebration of 6 years of fun with their hard driving punk, featuring songs from the Kinks and the Ramones. If you were looking for perfection you were in the wrong place but if you wanted fun, your smile is still plastered on your face. The staff was amazing and you should probably check this place out. Thanks!" - Rick Segulin
— Musicians Unite Safely in Columbus - Facebook Group